There's a new kid on the block and she's called Hybrid.
Hybrid photography is the combining of photos + video + audio. The resulting format is a video that is viewable on mobile devices, social media, your website, YouTube and other video sharing services.
Why Hybrid?
Mobile devices are the new photo albums. They have video and audio playback and they are fast replacing those tattered photos in your wallet.
Cameras have changed too, and they can capture video now.
If you're selling photography, you need to offer eProducts to your customers, and I'm not just talking weddings and babies here. This works for corporate industrial photographers too.
And wouldn't you love to be able to show your photography in a video portfolio? What if you could give your clients a video that they could embed on a product page? The possibilities here are endless.
But it's video and I don't know how to shoot or edit video!
Don't worry, I've got you covered. There are auto editing software and mobile apps on the market that help you with all that. Some are super simple to use.
For example, the other night I was playing with my iPad and made a video slideshow from my Australia photos with transitions and music and uploaded it to my FB page in less than 15 minutes using the app from ProShow web.
Click the picture below to play the video eProduct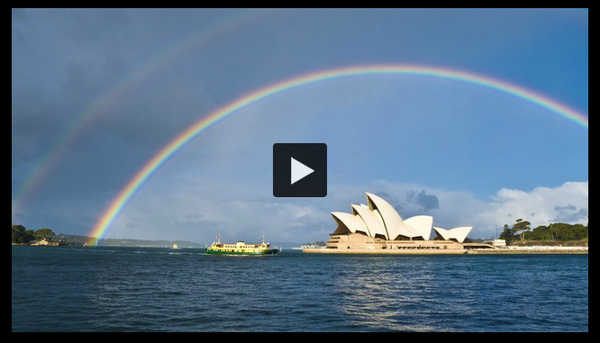 I'll be reviewing more apps and eProduct production techniques in the coming months. So keep your eyes open for those.
I got a new job
This month I've started working with a new group of video bloggers over at DiscoverMirrorless.com.
After my video blog post on DPS last month I got noticed by some photo industry folks. Someone kindly passed my name along to Will Crockett, the guy in charge over at Discover Mirrorless. Will is super keen about sharing new techniques and tools.
Long story short, I'm now part of their team of Hybrid Heros. I'll be posting video blogs a couple times a month there, and the neatest part of my job is product and software testing! Stay tuned for reviews of some very cool new toys, um I mean tools.
I also took part in my first ever Hybrid Hangout. A bunch of us gabbed about shooting JPEG vs. raw.
We also blog about mirrorless camera systems, like the micro 4/3 systems that are coming of age. These are being used more and more by pro photographers of all stripes.
You'd be surprised how much you can do with something like a Panasonic LUMIX GH3, especially if you want to shoot video and photos on the same shoot. I'll tell you one thing, that camera is high on my wish list!
Check out the discovermirrorless.com site to learn more about the latest in eProducts and Mirrorless Camera systems.
I'll still be doing my old job
Don't worry! I'm not leaving ImageMaven.com. And you'll still get at least four free video tutorials a month on YouTube. So don't forget to check out and subscribe to both my channels so you'll hear about them as soon as they are uploaded.
So, are you intrigued by hybrid photography?
View the original post here.